The Jim Hjelm Collection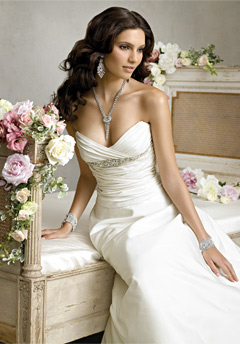 Jim Hjelm has some very beautiful dresses! This dress caught my eye when I was wedding dress shopping. The sweetheart-strapless neckline really causes you to fall in love with this dress. It has some minor beading along the top. Because it does not have too much beading going on it looks great with accessories. When purchasing my wedding dress, I had a lot of detail in the top half of my dress so I chose to wear a pair of large chandelier earrings and skip out on a necklace. However, any accessories would look great with this gown.
Jim Hjelms gowns are designed by Francesca Pitera. "I like to play with the balance of the latest trends and classic styles to create timeless yet unique gowns." If you would like more information on this gown please click here.