You hear it on the radio and you tear up a little.  It has the number one spot on your Ipod.  You find yourself humming it as you do chores around the house and if you are going to belt out a tune in the shower, it is the one on your lips.  What is this masterpiece of music that you cannot get out of your head?  It is your wedding song!  Like your dress, venue, and vows, your wedding song is one of the most memorable parts of the occasion.  So just how do you go about choosing the song for your first dance (or in some cases, the song sung during your wedding ceremony)?
Well, it can be very simple.  If you and your fiancé have a love song that means a lot to you, then presto! You have a wedding song.  Please note that I said love song.  As we recently saw on an episode of Fox's Glee, the Thong Song doesn't count.
What if, however, you and your intended are not one of those couples that go, "awwwww, they are playing our song!" when a tune comes on the radio?  In that case, you need to consider the following:
Is this wedding song going to be sung in a church or used at the reception for your first dance?  Not all churches allow secular music in the sanctuary so be sure to check with your official ahead of time.  If it is going to be played at the reception, can you dance to it?  Make sure you give it a try first and sign up for dance lessons if you need to.  Good friends of mine, for example, choose the rollicking tune, "Let the Good Times Roll" for their first dance and stunned us all with a wild choreographed swing routine – which leads us the second point…
Does the song fit your personalities? My aforementioned friends both loved to swing dance and were easy going, laid back people who viewed their upcoming life together as a fun adventure.  Hence, Let the Good Times Roll, while not a traditional wedding song, was perfect for them.  You and your partner may need to compromise a bit here.  If he's into old school hip hop and likes Baby Got Back (refer to Thong Song comments, please!) but she's a romantic and wants to waltz around the floor to Everything I Do, I Do It For You, she's not going to have fond memories of doing a rump shaking routine no matter how bootylicious she is.  Choose a song that appeals to both of you.  And speaking of appealing…
Is your song offensive to others?  Yes, it is your wedding, but you do need to consider the feelings of your guests.  If your recently divorced best friend is your maid of honor, choosing her wedding song as your own is not going to go over well.  The same goes for songs with questionable lyrics and offensive language.  For example, I Wanna Sex You Up is a lovely and yes, even romantic song under some circumstances, but you do not want your mother-in-law blushing and your father trying to crawl under the table as you and your new spouse grind on the dance floor.  Keep it family friendly!
You have millions of songs at your disposal.  Whether you want some thing fun or flirty, romantic or reminiscent, there is a song out there that you and the one you love will agree on.  So, go ahead and choose one that as Bon Jovi so eloquently sings it, will Make a Memory.  (Hey, Make a Memory! That's a good wedding song too!)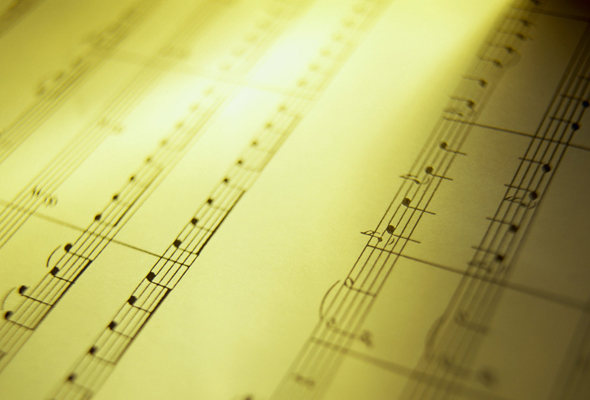 Your wedding music will  be heard all day long, at your ceremony and at your reception. However, choosing the right music can be hard, so were here to help. We've got the top fifteen choices for ceremony music. Many of these songs are written by various artists. If you don't like one rendition of the song, don't give up on the song. You may like one artist verse another.
1. "Canon in D" Pachelbel
2. "Air" George Frederic Handel
3. "Jesu, Joy of Man's Desiring" Several Artists
4. "Ave Maria" Andrea Bocelli or Sarah Brightman (one of my favorites)
5. "Trumpet, Tune, and Air" Several Artists
6. Prelude from Te Deum Wynton Marsalis
7. "Trumpet Voluntary" Peter Hurford
8. "Vivaldi Largo Winter"
9. "Charpentier: Te Deum"
10. "Gabrieli: Candzon V"
11. Wagner: Bridal Chorus"
12. "The Prince of Denmark's March" Anthony Newman
13. "Rondeau (J.J. Mouret)" William Picher
14. "Handel: Larghetto"
15. "Liszt: Dream of Love"
You have chosen the band or dj for your big day, but what songs should he/she play? Well you  need to take a few things into consideration. For instance, the age variations attending your wedding. Surely, you do not want rap music when 75% of your guests are over the age of 40. That probably won't appeal to them. So here is a few tips to ensure you have a great music list to provide  your entertainment vendor.
Tip 1: Consider the type of music being played at your wedding. If you have a mix of age groups then be sure and provide a mix of music.
Tip 2: Listen to the songs or artists you have never heard of. You  may think the song  is a great piece for the dinner portion of the reception and then you find out maybe it wasn't.
Tip 3: Provide the entertainment crew with a "Do Not Play List." You don't want them playing Macarena, but if you do not inform them then they may decide to play that popular hit.
Tip 4: This is not so much aimed for DJ's because they usually have a required attire, but if you hire a band be sure and ask them what they plan on wearing. Your little diva may have a set of lungs on her, but she may not dress to impress.
Tip 5: Occasionally, your band or dj may not have your first dance song on hand or your father-daughter dance, etc. If they ask you to bring in a pre-recorded CD be sure it works and it does not skip. I know someone who had a CD that skipped at her wedding. Needless to say, she was not a happy bride.
Here is a list of the most popular first dance songs…
1."Something" -The Beetles
2. "It Had to Be You" -Harry Connick Jr.
3. "At Last" -Etta James
4. "From this Moment" -Shania Twain and Brian White
5. "The Best is Yet to Come" -Frank Sinatra
6. "Wonderful World" -Louis Armstrong
7. "My Best Friend" – Tim McGraw and Faith Hill
8. "When I Fall in Love" -Nat King Cole
9. "Unforgettable" -Nat King Cole
10. "Can You Feel the Love Tonight" -Elton John