Choosing your wedding cake flavors, toppings, and decorations can be a challenge. Below are some common and favorite cake fillings and icings.
| | |
| --- | --- |
| Fillings | Icings |
| Cream | Buttercream |
| Lemon | Fondant |
| Buttercream | Royal Icing |
| Strawberry | Chocolate |
| Cream Cheese | Whipped Cream |
| Chocolate | Marzipan |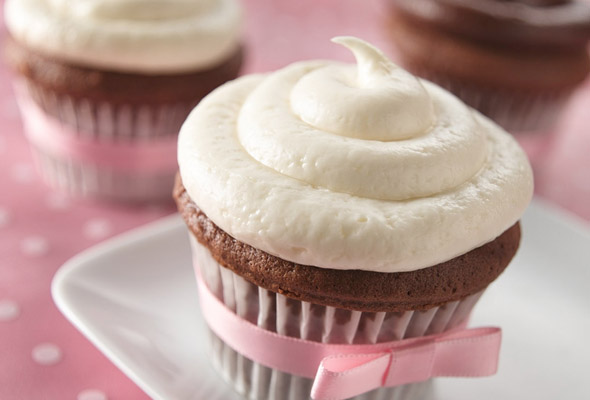 You don't always have to have a cake at a wedding. Now a days, brides are using decorative cupcakes in place of a cake. They are cost effective, loved by all, there is no cake cutting, and easy to disperse. The best part about cupcakes is the decorating. There are so many ways one cupcake can be created. Besides the beauty and the uniqueness of a cupcake, you have plates and cake stands that can also add to the elegance of how the cupcakes are displayed. For more cupcake ideas visit Martha Stewart Weddings. They have an array of ideas and 31 pictures to inspire your cupcake desires.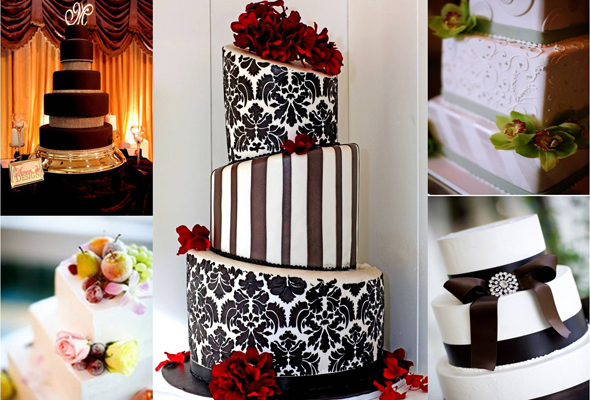 Most cakes tend to have several layers or tiers. However, the bride and groom must decide if they would like round tiers or square tiers or maybe a combination of both. Here are some creative photos of cakes with unique designs to fit anyones taste. Some like their cake with flower decor and others would rather have fruit. Either way the ideas for a cake are endless. Once you have figured out what you want your cake to look like, then you must decide what type of filling if any. Do I want chocholate or vanilla? It's possible that each tier could be a different type of cake. You may have strawberry filling on the top layer, vanilla hazlenut as your second layer, and chocolate marble as the bottom layer. My best advice to you is to see if you can taste (preview) your cake prior to your wedding. This way you won't be disappointed on your big day. It's best to go in with a picture of what you want your cake to look like. Without a picture your baker may misunderstand the design of your cake.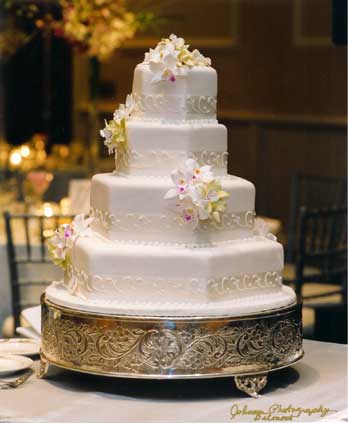 Need some wedding cake inspiration? These cakes can give you some ideas for your own wedding cake. The white cake (great for weddings all year round) has four tiers and a lot of detail. The orange cake is a great color for a fall wedding. The cake has three tiers and is decorated with several different kinds of petite flowers. If you are on a budget, minimize the detailing on your cake. The more detail that is involved the higher the price tag will be. Buying a beautiful cake stand can really dress up the cake. You can even purchase a package of flowers from your local florist or supermarket and add the flowers on your own. This will cut some of the cost of your cake as well. I had was determined to spend no more than $350-$400 on my wedding cake and I was able to do it. How you ask? I had my local supermarket create the cake for me. I brought in my inspiration (a picture I cut out from a magazine). It looked great and tasted even better! Check out my cake below.
Need more inspiration? You can visit Enchanted Wedding Cakes or visit Pink Cake Box for more great ideas.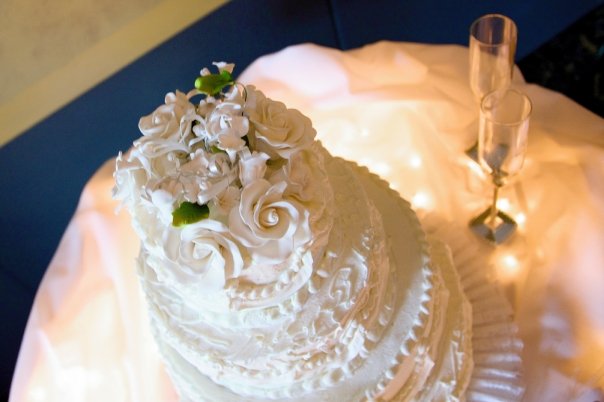 This is my wedding cake that I had our local supermarket make. I brought in a picture to the deli manager and they created this beautiful cake as well as our cookie favors!
The best part about it was the cake only cost us $345 and that included the delivery fee! Does my cake look like a $345 cake? No, but who has to know?