Ceremony Programs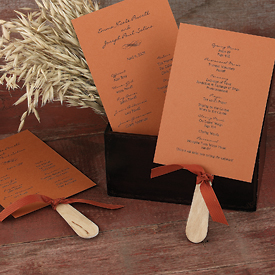 The ceremony is an important event on your wedding day and your guests need to know what is happening and the order in which things will be taking place. That is why programs were invented. It's a simple way to let your guests know the type of music that will be played, who is in the wedding, and so on.
The ceremony programs can be bought or printed, but it is highly recommended that you have them. They should include all important events in the correct order.
The programs above are popular for outdoor weddings in the spring or summer. They are known as fan programs and are used to cool down guests when the weather is a bit hot. If you are interested in these particular fans you can see more of them at My Jean M. Another great site with programs is Invitation Consultants.