After nearly 7 years of dating, actors Maggie Gyllenhaal and Peter Sarsgaard tied the knot this past weekend. The pair started dating in 2002 and have a 2-year-old daughter, Ramona. They exchanged vows Convento di Santa Maria di Costantinopoli, a luxury bed and breakfast in Brindisi, Italy, before just 40 close friends and family members, including the bride's brother, Jake Gyllenhaal and his girlfriend Reese Witherspoon.
Having a wedding in a small Italian town is great for celebrities to get away. Weddings are supposed to be private events with your closest friends and family members, not something put on for the paparazzi. Celebs will spend millions of dollars to get away from it all. Unfortunately, when they do this we can't get a picture of her wedding dress! If one shows up online, I'll be sure to post it here.
Many comparisons can be made between a wedding and high school prom. Just as a girl grows up hoping to marry prince charming, she also is wishing to be asked to prom by a handsome man.
Women look forward to both events their entire lives. Hours (if not days/weeks) of planning and preparation are needed for the perfect night. But when it's all said and done… a woman's wedding (or prom in this case) isn't perfect unless you have the right dress. You can have the best man by your side or the best hair in the room… but if you don't feel like a princess in your dress nothing will feel right.
One of the first thing a woman will do once she's engaged is shop for a wedding dress. The same can be said for a high school senior after she's just asked to the big dance. Girls love shopping for prom gowns as much as a bride loves shopping for her wedding gown. They bring friends along, take pictures, and visit as many stores as they can.
Do you remember your high school prom? Did you have the perfect dress that night? The type of dress that made everyone in the room stop dancing and look with awe at you?
The folks over at Bella Naija, a style site from all the way in Africa, posted the 11 most iconic wedding dresses from film and tv. Quite an interesting topic huh? We see actresses portray brides in movies all the time, but do we ever really pay attention to the dresses?
What does Bella Naija define as an "iconic" dress? It's the style, as it is vastly applicable to today's bride, it's beauty, and most important, the scene's impact on the movie, series or show as a whole!
Coming in at Number 1 is Julia Roberts in Runaway Bride. I'm not a fan of the dress she's wearing, but the wedding scene in the movie is great. If someone asks you to name a movie about a wedding, Runaway Bride is probably the first one that comes to mind.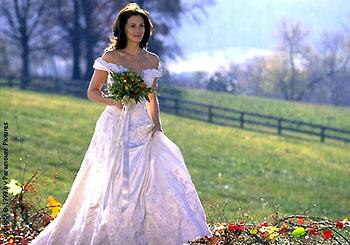 Check out the other 10 dresses here.