Touch Ups by Benjamin Walk (Sharmain)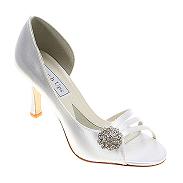 What good is a beautiful dress if you don't have any killer shoes to wear it with? This company Touch Up is one of my favorites for bridal shoes. These exact shoes that I have posted are the shoes I wore to my very own wedding. They are very inexspensive, coming in at just under $60. The price varies on several websites. I purchased these from Bellissima Bridal Shoes for $56.99. However, they are listed on a few other websites for a few dollars less. Shoe Buy has them listed at $53.95.
I wore these shoes all day long without once taking them off. I can honestly say they are one of the most comfortable shoes I have ever worn. Of course at the end of the night my feet were sore, but mostly just from being on them all day. I even bought slippers to change into, but did not have to change because they were so comfortable. The best part about them is they are cute!!! I received many compliments on them and I am happy I chose them.
These peep toe heels come in at 2.62 inches in height. They come in white, gold, silver, and black. Sizes range from 5-11. For a better look, click here.