Drinks Anyone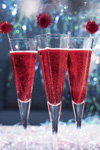 Candied Cane
Need a specialty drink for the big day? Try this fun and sweet candy drink. It tastes great and looks even better! I've been to a few weddings where the bride and groom offer a few compliment drinks. I kept it simple at my wedding and went with beer and wine, however, many couples choose to have specialty drinks, like this one for instance.
If you're looking for your specialty drink or other simple cocktails for the big day or for your bachelor/bachelorette party, check out the Liquid Muse. The website has some great ideas and drinks as well.
Candied Cane
1 oz. Boca Loca Cachaça
1 oz. crème de mure
1 oz. fresh lemon juice
1/2 oz. simple syrup
2 oz. champagne
Shake ingredients with cracked ice until chilled. Sugar the rim of a chilled champagne coupe or cocktail glass and strain ingredients into glass. Float 2 oz. champagne and garnish with a lemon twist.