Designer Weddings on a Budget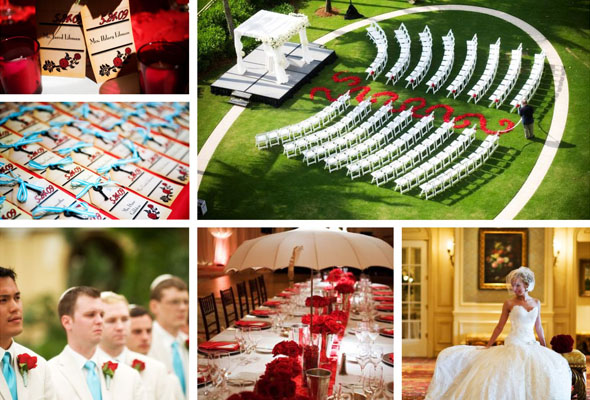 Weddings can be a very expensive event for any bride and groom. With our money saving tips, you can have a beautiful wedding even on the smallest of budgets.
Largest Money Saving Tip: Think about having your wedding on a day other than Saturday. Having your wedding on a Friday or Sunday can literally save you thousands. If a Saturday wedding is non-negotiable than have it in the morning or around lunch.
Tip 1: Create the wedding invitations yourself. You can download many templates or buy pre-prepared invitations and envelopes at places like Michaels. Then you just print from home. Savings: $450 or more
Tip 2: Favors don't have to be lavish and expensive. As long as they serve a purpose and guests remember the occasion than they have done their job. Try baking mini sugar cookies and putting them in a clear cellophane bag. Tie the bag with a ribbon and printed tag. Savings $100 and up
Tip 3: Transportation can be pricey. So borrow a friends car. Maybe they have an old Mustang or Chevelle that you can ride in style. Savings: $600 or more
Tip 4: To save on flowers, have a florist create the bouquets. Buy the flowers for the centerpieces the morning or night before the wedding at your local grocery store or florist. Have a bridesmaid or friend cut them and arrange the flowers in vases. Savings: $500 and up
Tip 5: Catering can really add up so instead of having dinner and drinks, have a brunch wedding. Guests can enjoy breakfast and lunch while you keep money in your pocket. You don't have to worry about alcohol, hors d'oeuvres, or desserts other than the cake. Savings: $700 and up
Tip 6: DJ's are less expensive than bands. If a DJ is out of the question, create a 3-4 hour playlist on your IPOD, rent high quality speakers, and have your playlist do the work for you. Soft music can be played during dinner or eating, and then another playlist can be created for dancing. Savings: $650 or more
Tip7: When it comes to photography there is not much room to skrimp. Your photos are a lasting impression of your big day. You want to look back and love your memories. When making adjustments try to be reasonable. Spend the money on the photogrpaher, but instead of having them create the album, you create it. Many online stores such as Kodak will create photo albums for you. They even having wedding themes. Savings: $300 and up