Celina Cubic Zirconia Earrings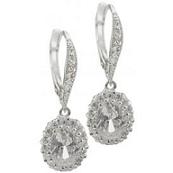 Need earrings for your wedding day? These cubic zirconia earrings from Anna Bellagio are stunning. They have many assorted pairs of earrings for under $60. Many woman go with the simple studs or pearls on their big day, however, on my big day I wanted something dramatic. My dress had a lot of beading and detail so I knew I couldn't wear too much. I decided to go with some chandelier earrings and a simple bracelet (my something borrowed).
Anna Bellagio is a great company. They gift wrap your purchase, the shipping is fast, and have many earrings to choose from. The best part about it is they don't tarnish or discolor if you keep them in their original wrapping. If you would like more information on this product please click here. Another great company, a company where I purchased my earrings from, Wedding Sparkles. I bought my earrings for under $25 and received more compliments on those than the real white gold bracelet I was wearing. You may want to give that website a look.