Weddings are all about you, the bride: true of false?  Well, it's actually a gray area!  Yes, it's your special day but the needs of your guests, friends, and family must also be considered.  This is especially true of your reception menu.
It is virtually impossible for you to know the tastes and desires of all of your guests so you need to stick with some general rules.
Rule Number 1: Well known allergens should not be on the menu.  Sorry, but a menu that includes Peanut Satay Sauce over various types of shellfish boiled in cows milk just isn't going to work – and not just because that's an awful combination.  Nuts, shellfish and dairy are the top three things to look out for.  If you want those items on the menu, regulate them to a side dish and make sure they are clearly marked with allergy alerts.  Nothing spoils a wedding faster than a guest collapsing with anaphylactic shock and having to be rushed to the hospital.
Rule Number 2: Consider the vegetarians.  They are out there and they are becoming more and more popular.  One of your main dishes or a couple substantial side dishes should be meat free.  Not only is this considerate for your meat-free guests, it also helps those actively pursing a lighter-eating lifestyle.  Your thoughtfulness in this area will be greatly appreciated by the group that usually winds up feasting on nothing but salad at social events.
Rule Number 3:  Caviar is a matter of taste.  Sure, it's fun to show off with a lavish dinner.  However, when it comes to things like caviar and other wildly expensive imported delicacies, you may find it cheaper in the long run to wad up your money and toss it out the window.  Not everyone enjoys the lavish life of delicate foods; most of it may wind up going to waste.  If a mind-blowing spread is what you are after, you can do that with dishes most people will enjoy and save money instead of dispensing cash on dishes that only a few will truly appreciate. 
Rule Number 4:  There are not enough napkins in the world to justify serving lobster.  Okay, it can be done, but remember you and your guests are in their best clothes here.  Saucy, soupy, drippy, and anything that requires manual dexterity to break into and eat are probably not the best ideas – unless you are planning to spring for the dry cleaning bills.
A big part of the wedding is the feast, so it's only right that both you and your guests enjoy it.  Your menu should reflect your taste, wedding theme, and personal style.  It should also have a little something for everyone that said yes on the invitation.
Cheers!
Planning a wedding should be a time filled with joy and the promise of a bright, loving future together.  Unfortunately this is also a time when old family feuds come to a head.  The invitations you give out or deny can shape how family members treat you for years to come.  What is a bride to do?  Who gets the invitation and who gets cut? 
If this is a feud that has nothing to do with you, try not to take it personally and by all means, avoid being Dr. Fix It!  Feuds need to be settled by those involved in them.  Trying to patch two people up when you do not have a vested stake in the argument is never a good idea.  Wedding planning is emotional and draining at the best of times; try not to get caught up in the drama of others. 
 If there is someone you really want to invite and the feud is over something trivial such as an insult over a dress or unreturned soup ladle, be assertive.  You do not have to invite or cut anyone just because someone says so.  An appropriate response to Aunt Mary's biting remark, "I hope you are not planning to invite Uncle Marty.  He never did apologize for scratching my car" would be to say, "Both you and Uncle Marty mean a lot to me and since I want everyone I care about to be with me on my wedding day, I will be sending an invitation to both of you."  Then dole out the invitations to both parties and let them decide if they will show or not. You may be setting off another family feud by being firm on your guest list, but those that choose to drag out small arguments for years have much deeper issues than who shows up at your wedding.
What if you are part of the feud?  If you are fighting with someone and are ready to negotiate a truce, sending an invitation (plus a quick note expressing your desire to be on friendly terms again) is a wonderful way to initiate a resolution.  If your feelings are so strong, however, that you never wish to set eyes on him or her again, spare yourself the emotional turmoil and don't send an invitation. 
However, not all feuds are trivial.  Some are very serious and should result in the offender not receiving an invitation.   If the potential invitee is a person that has done you or another family member physical or emotional harm to the point where contact with him or her would be damaging, you need to leave this person off your list.  You are not obligated to invite someone that is dangerous or would cause discomfort to other guest(s).  If this person is someone you are close to but is dangerous to someone else you want to invite, you need to decide between them.  Some actions need no explanations.  If someone assaulted you or another family member, they should not expect an invitation or explanation.  However, if you feel you are being hurtful to the uninvited guest and the nature of your relationship with them is good, you should explain why they are were left off the guest list.  This should be done in person.  Do not rely on the grapevine to get word across – as that will only breed more resentment and hard feelings. 
Sometimes there is nothing you can do when people disagree and while that can put stress on your wedding planning, remember that it is a day of celebration.  Perhaps not everyone can celebrate it with you, but your true friends will be there physically or in spirit to wish you well.
On the surface, it looks so easy.  Your wedding color is typically your favourite color.  If only it was that simple.  If you have ever painted a room, or tried to match two shades of fabric, you know that white actually comes in about 20 different shades (white, off white, eggshell, cream…) and each retailer has a different interpretation of it.  What is white at one store may be cream at another. 
If the color is a very big deal for you, spare yourself the frustration of driving all over town with a fabric swatch in your purse and find an all inclusive wedding store.  These types of stores typically have suppliers that have their own color schemes for wedding items.  Not only will you save time and money, you will also be able to perfectly match your dinner napkins to your cocktail ones.  
If the color is a breaking point for you, be prepared to have several different shades.  This effect, when properly done, is actually quite pretty.  You may have dark purple accent flowers on the slip covered chairs, light purple flowers in the table centerpiece and a pale purple appetizer plates.  It's still purple, but varied.
 It is perfectly acceptable to uses several shades of a single color.  However, if you are using two or more colors, be very careful.  Yellow and red, while festive, are also typical colors for a hot dog stand.  Unless you and your fiancé are baseball fans with a sports themed wedding, you may want to rethink that one.  Pink and red tend to clash.  It can be done, but if not reigned in will resemble a Valentine's Day party.  Well, if you are getting married on February 14, I guess that is not an issue! 
Give special consideration to the groom.  Pink may be your favorite color but if you expect him to wear a pink cummerbund and pocket square, you may want to discuss that with him first.  He may not be as enthusiastic about it as you are.
 Also consider your bridesmaids.  While you are free to pick whatever color you want their dress to be, you will be taking photos with these ladies that will serve as a lifetime reminder of your wedding day.  Choose photogenic colors that look good on a variety of skin tones.  A delicate pale yellow in outdoor photos may look washed out as well as making very fair skinned ladies look pasty.  
Above all, don't get too hung up one particular color.  There are endless shades for you to choose from.  You don't want to remember your wedding day as the day you were so sad because the mint green napkin rings didn't match the spring green bows on the candles.
You hear it on the radio and you tear up a little.  It has the number one spot on your Ipod.  You find yourself humming it as you do chores around the house and if you are going to belt out a tune in the shower, it is the one on your lips.  What is this masterpiece of music that you cannot get out of your head?  It is your wedding song!  Like your dress, venue, and vows, your wedding song is one of the most memorable parts of the occasion.  So just how do you go about choosing the song for your first dance (or in some cases, the song sung during your wedding ceremony)?
Well, it can be very simple.  If you and your fiancé have a love song that means a lot to you, then presto! You have a wedding song.  Please note that I said love song.  As we recently saw on an episode of Fox's Glee, the Thong Song doesn't count.
What if, however, you and your intended are not one of those couples that go, "awwwww, they are playing our song!" when a tune comes on the radio?  In that case, you need to consider the following:
Is this wedding song going to be sung in a church or used at the reception for your first dance?  Not all churches allow secular music in the sanctuary so be sure to check with your official ahead of time.  If it is going to be played at the reception, can you dance to it?  Make sure you give it a try first and sign up for dance lessons if you need to.  Good friends of mine, for example, choose the rollicking tune, "Let the Good Times Roll" for their first dance and stunned us all with a wild choreographed swing routine – which leads us the second point…
Does the song fit your personalities? My aforementioned friends both loved to swing dance and were easy going, laid back people who viewed their upcoming life together as a fun adventure.  Hence, Let the Good Times Roll, while not a traditional wedding song, was perfect for them.  You and your partner may need to compromise a bit here.  If he's into old school hip hop and likes Baby Got Back (refer to Thong Song comments, please!) but she's a romantic and wants to waltz around the floor to Everything I Do, I Do It For You, she's not going to have fond memories of doing a rump shaking routine no matter how bootylicious she is.  Choose a song that appeals to both of you.  And speaking of appealing…
Is your song offensive to others?  Yes, it is your wedding, but you do need to consider the feelings of your guests.  If your recently divorced best friend is your maid of honor, choosing her wedding song as your own is not going to go over well.  The same goes for songs with questionable lyrics and offensive language.  For example, I Wanna Sex You Up is a lovely and yes, even romantic song under some circumstances, but you do not want your mother-in-law blushing and your father trying to crawl under the table as you and your new spouse grind on the dance floor.  Keep it family friendly!
You have millions of songs at your disposal.  Whether you want some thing fun or flirty, romantic or reminiscent, there is a song out there that you and the one you love will agree on.  So, go ahead and choose one that as Bon Jovi so eloquently sings it, will Make a Memory.  (Hey, Make a Memory! That's a good wedding song too!)
Welcome to Part 3 of the Beach Wedding Series.  So far, we have discussed key things to keep in mind when picking a destination as well as tips for purchasing and transporting your gown.  Today let's get off the beaten path and look at some ways to make your wedding day unique for you and your guests.  
Add some local culture.  If you are in an exotic location like Mexico or Cancun, hire local performer(s) to sing a love song in their native tongue during the ceremony or to teach you and your guests a traditional dance or craft.  You can dress in traditional costumes and exchange vows in your location's mother tongue.  
 
Fish as Witnesses.  If it's just the two of you and no guests or you have a very small group, hire a boat and exchange vows surrounded by the beauty of the ocean.  With the vast expanse of blue around you, the moment becomes even more intimate as you and your intended are briefly removed from the hustle and bustle of life on land.  You will feel like it's just the two of you, for those brief moments.   
 
Scavenger Hunt.  While you are taking pictures, challenge your guests to a scavenger hunt for items found on the beach.  You can print up a list before hand or make it as simple as asking them to find a specially colored shell.  At the reception, reward the most unique find with a small gift.  
 
Photo Hunt.  This is similar to point 3, but requires the guests to use digital cameras to photograph the items.  Use a card reader at the reception to display the photos and reward the most creative with a small gift.
 
The Extended Party.  If your guests have travelled to celebrate with you, invite them to share your honeymoon for a couple of days.  As a group, take in the local attractions, go on a small cruise, book an island tour, or enter a sandcastle building contest.  After the couple of days are up, your guests return home while you and your husband spend the next few days together…just the two of you!  
 
Vow Renewal.  Beach weddings are romantic and make even the longest married couples a little misty eyed.  Surprise your married guests with a chance to spontaneously renew their vows.  Pre-arrange with your official to have couples come the alter and renew their vows while you and the groom are having your pictures taken before the reception.  
A beach is a beautiful place for a wedding so take advantage of your surroundings to create a truly unique experience for you and your guests.
You are planning a beach wedding.  Congratulations!   In the previous post, we discussed key issues to keep in mind when selecting a location.  Today we will discuss the part brides look forward to the most…selecting the dress!  As young girls, we have dreamed about this day, flipped through magazines gazing at the lovely white gowns, and perhaps even carefully took mom's dress out of storage, unwrapped it, and tried it on. Now it's your turn.  So, just what are brides wearing on the beach these days? 
A beach wedding is not as formal as a church ceremony; therefore, your gown choices can be less formal too.  What you wear is completely up to you, from a bikini to a sundress to a gown that would make Cinderella green with envy.  Whatever you choose, keep in mind that you will be standing in the sun with emotions running high so there are some things you want to avoid. 
Tight, restrictive clothing and corsets are not a good idea.  While these can be bearable in an air-conditioned space, wearing such garments outdoors in hot weather is a recipe for fainting.  The same goes for breathable fabrics.  Look for something lightweight and permeable.   Flat sandals or bare feet work best on sand unless you have a carpet or something firm to stand on.
If you want a traditional dress, check out your retailer's casual/informal section.  These dresses carry all the elegance and romance of a formal gown, but have less fabric, minimal (if any) trains, a lighter weight, and can be shorter in length.  You will have the freedom to move around the beach without sweating or dragging your train through the surf.  Many of these gowns bare the shoulders, which is perfect for showing off your tan and keeping you cool during the ceremony. 
 If you need inspiration, type "beach wedding" into Google and click on "image results".  These results will be a mix of personal and professional photography, enabling you to see different gowns and suits/tuxes in a beach setting.  You will have a clearer visual as to how your gown and color choices will look at different times during the day (for example, sunset on the beach is a great time for silhouette photos). 
 If you are flying to your destination, phone the airline ahead of time and ask if you can hang your dress in a garment bag in the cockpit where the pilots put their jackets.  If this option is not available, follow this advice from ABC Bridal .  Make your dress a carry on in case your luggage gets lost or delayed.  Open the zipper a little bit and gently fold the dress back and forth ending with the hanger on top.  Place your shoes and veil in the bag and wrap everything in acid free tissue paper.  Follow this with a plastic waterproof layer. Unpack the dress as soon as you reach your accommodations.  If there isn't an on-site laundry facility equipped with steam, turn on the hot water taps in the bathroom and close the door. Once the room is full of steam, turn off the taps, put clean towels on the floor (if your gown is long) and hang your dress from the shower rod.  Make sure the shower rod is dry.  You do not want any water touching your dress.  Hanging your dress in steam for a day will eliminate the wrinkles.  Never use an iron on your wedding gown or the veil as this can burn or discolor the delicate fabric.    
 Let's close with a side note for the men.  When travelling by air or more than a day by land, do not assume the groom and groomsmen can rent tuxedos in their hometowns.  Many rental places expect the suits back the next day; you may have to rent at your destination.  Once again, however, this is a less formal situation so a light suit or even a dress shirt and pants may suffice. 
 Choosing a gown is exciting and a big part of planning your wedding.  Enjoy the moment and the memories you will have of making this important selection.  Check back soon for Part three of this series when we discuss beach themes and other unique ideas you can use to customize your special day.
Check out part 3
He proposed!  The ring is on your finger, your mom used up an entire box of tissue crying happy tears, and you have already bought up every bridal magazine you could find at your local bookstore.  You have always dreamed about getting married on a beach with your beloved beaming at you like the tropical sun while your contented guests sip cold drinks from coconut shells and slip their sandals off to wiggle their toes in the sand.  Beach weddings are the stuff of fairytales.  Fairytales, however, can be fraught with peril.  You may not have any dragons to slay or evil witches to combat, but to avoid the magic from turning tragic, there are a few important issues to keep in mind.  With a little planning and foresight, your wedding story will end with you and your handsome prince strolling blissfully into the sunset, hand in hand at the end of the day. 
 The first thing you need to do when planning a beach wedding is to select a destination.  There are many beautiful places all around the world, but not all of them are as accessible or affordable as you might imagine.
 If you are planning a destination wedding with guests, you must make every consideration to keep their costs to a minimum (and not be upset if some decline to attend or be in your wedding party).  Even if you are paying for their travel, consider your guests' other costs, such as loss of income while away from work (if unable to line up your wedding plans with their vacation policy) and childcare if you book a childfree resort.  Therefore, you may want to skip the remote, floatplane access island and opt for one that offers all-inclusive deals. 
When selecting a destination, also consider your personal style.  If you are not into working out the many details necessary for a wedding (even small, laid back weddings require official paperwork!), check out resorts that have wedding packages, like Sandals (www.sandals.com).  These packages can include cake, flowers, photography, and a small reception.  If your location of choice does not have a package, you will need to do some long distance planning.  Unless you have someone on location to act as your eyes and ears for selecting your cake, flowers, and other details, ask the concierge at your accommodations to provide the name of a trustworthy and reputable wedding planner.  To keep costs and frustration levels down, you will want to use as many local resources as possible.  The thought of shipping a mult-tired cake and a fresh bouquet in a cargo hold is a little daunting!
 Check your local government or airline's websites for travel advisories.  With the outbreak of pandemics such as H1N1, travel to some locations is not advised.  Also, check to see if certain immunizations or other health precautions are necessary and if so, do not forget to inform your guests.  Make sure you passport is valid.  Nothing kills the romance of your beach wedding faster than your lack of attendance due to an expired passport!
 Once you have settled on a destination, it is time to make the booking.  Whether you go through a travel agent or book online, it is worth the small extra charge to insure your trip.  Tropical storms, natural disasters, illness, or family emergencies may cause you to postpone your plans and you certainly do not want to loose the large sums of money paid to secure your trip.  While rescheduling is inconvenient, paying for a trip you can no longer take is inconceivable. 
 Stay tuned for Part 2 of this series where we discuss how to Dress for Success.  Did you really think you could rent those tuxedos for two weeks and ship them out on the airplane?  Just what kind of dress should you wear on the beach anyway? You will learn all this and more as we discuss what to keep in mind when planning a beach wedding.
Check out part 2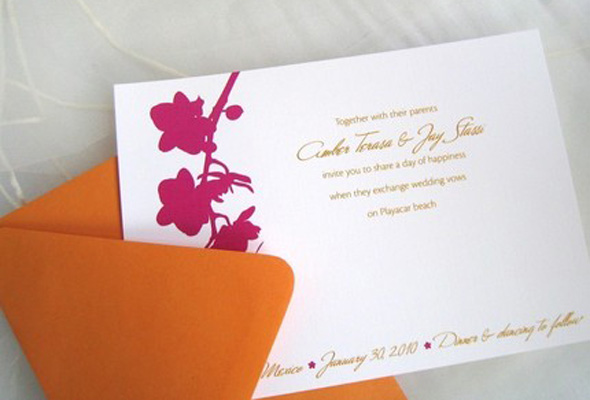 Wedding invitations can be extremely expensive!! So we have a solution for you. Check out Etsy Wedding Invitations. Many of the designers vary in prices and designs. This specific orchid wedding invitation set is a set and is $3.80 for the invitation. This may be a  great idea if you are trying to cut back on your wedding expenses. These invitations are beautiful, professional, and budegt friendly. Check more out at Etsy Wedding.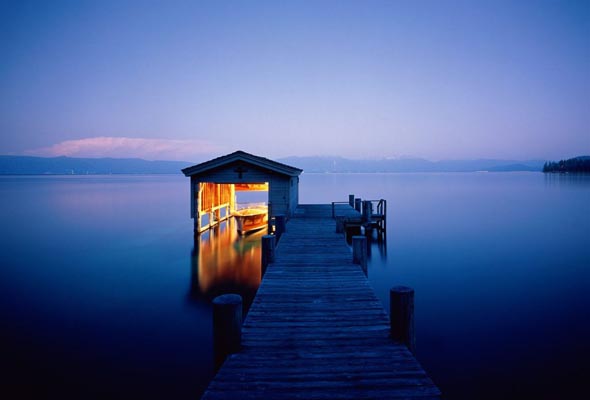 Here is a list of the top ten places to visit within the U.S. that won't put a hole in your pocket.
1. The Florida Keys: Romantic, sandy beaches, and crystal clear blue waters. The chain of islands have so man activities you won't know what to do first. It's like vacationing in Hawaii, without paying the fees.
2. Napa Valley, California: Nothing is more romantic than enjoying some alone time  in the hills of California. You can go on wine tastings and tours, have access to beautiful  beaches, and dine at some of the most incredible restaurants.
3. Lake Tahoe: Depending on what year you visit this popular vacation spot, there is always something to do. Hiking, Skiing, Biking, and many more outdoor activities. If you love the outdoors this honeymoon is for you any time of the year.
4. Niagara Falls: Famous for its boat tour around the largest waterfall in the nation, this site is breath taking.
5. Miami, Florida: If you love the night life, warm weather, and beaches, you will enjoy Miami.
6. New Orleans: Between the great music, good Cajun food, and night life, New Orleans has so much to offer.
7. New York City: The Big Apple is famous for good reason. The shopping and food is an experience in itself. After a day of shopping you can head to Trump Towers where you can eat at two of their five star restaurants.
8. Grand Canyon: Visit the Grand Canyon, have a picnic in the park and enjoy a honeymoon of quiet solitude.
9. Las Vegas: Enjoy shows, food, and some gambling all times of the day/night. This city doesn't sleep, remember?
10. Washington, D.C.: If you like history and art than this the honeymoon hot spot. You can enjoy being newlyweds and get a lesson in history all at the same time.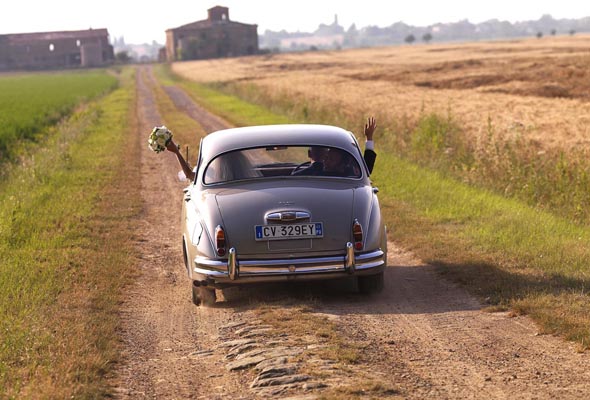 Transportation is important and we want you to know all the ways possible for you to arrive and exit in style. Here is a breakdown if what you can rent and what it will cost.
Limo: Ideally this is the most popular means of transportation. They seat about 8-10 people and cost about $75-$150 an hour.
Vintage Automobile: Classic and elegant, this has been another popular choice by many couples. Private and intimate and makes great pictures. Cost is about $125-$200 an hour.
Horse and Carriage: This is perfect for our vintage themed weddings. Cost is about $650-$1000 for around three hours.
Town Car: Very cost effective and affordable, yet still classy and elegant. Cost is about $35-$60 an hour.
Stretch Limo or Hummer: Carries the largest of crews, especially if you have a large wedding party. Cost is around $100-$300 an hour.