Not sure what to wear on your honeymoon… so you pack everything, pants, skirts, dresses, and jackets you know just in case it get's down to 30 degrees in the Bahamas. Sound like you? No matter where you're going you want to bring the essential items for your trip. Each destination has a different dress code. Many women tend to "over pack." A simple checklist of the items needed will help ensure you don't over pack or under pack. One tip I love to give is leave a little bit of room in your suitcase when going on your trip. Chances are you will be buying a souvenir or two. We don't always think about that when packing our suitcase. Below is a checklist you may need when packing for trips. The Knot has a great printable checklist for any trip. Martha Stewart has great information about planning for your honeymoon. It discusses budget, researching, what to do before leaving the house, and more. Check out these worthy sites for more helpful information on honeymoons!
Hey it's spring, do you know what that means? It means wedding gown designers have released their spring collection. What's in? Bows! Bows are the new trend in wedding gown fashion. They are seen on many of the latest designer fashions. Priscilla of Boston, Vera Wang, Angel Sanchez, and Badgley Mischka are among the few that have incorporated bows in their designs. "They are a fun and whimsical look and are used as a focal point," says an unknown source. Bows are said to be flattering and enhance a woman's figure. For more inspiration check out Angel Sanchez's Collection. Many of his gowns have a great deal of detail. If he isn't incorporating bows, he has tulle, feathers, or beading.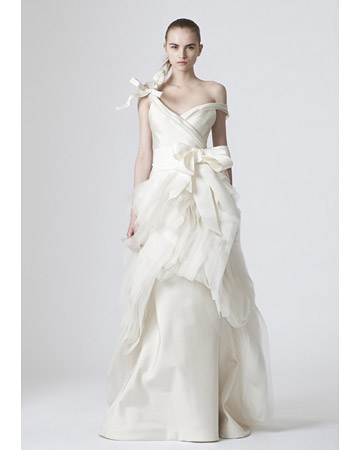 Okay, so you want a romantic wedding right? Who doesn't? Why not go with a french theme; the French are known for their romantic city, words, and food. With roses, candles, sheek table settings, and lavish centerpieces you will be sure to set the mood. Color can make a difference as well. If you are going with a romantic theme you will want to stick with colors like red and pink. Red is a bold color, but makes a statement. Pink is subtle and calm, it too can set the perfect tone. The littlest details can add just the right touch. Need some inspiration? Check out at Brides.com they have some great pictures as well as real weddings to get inspired by.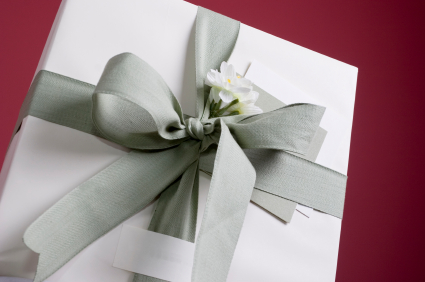 We all know before the big day you choose a couple of wedding registries for shower gifts as well as wedding gifts. But who do you choose? Why? What do they have to offer? Below are five great registries and some not so great registries. Check them out before you choose. You may be surprised to find some companies and stores will exceed your expectations and some may not.
Top Five Wedding Registries
1. Pottery Barn: Why you ask? They provide you with registry cards to enclose in shower invitations, sent to your house for free! Or you can download them, personalize them and print them. They provide a guide of things you may need for you and your new hubby.You can download a free printable checklist of the items you may want to registry or may not be thinking about. Gifts are very easy to return, even if your guest has not given you a gift receipt. Receive 10% off of all items left on your registry (wait until the end because they will only give you the 10% once). Need we say more?
2. Williams-Sonoma: When you register for specific items  or with certain vendors, you can receive free offers. If you register with them they offer free technique classes, product demonstrations, cooking classes, and book signings. Okay that last one was cool in itself. Williams-Sonoma now has Williams-Sonoma Home. Now you can find something for every room and not just your kitchen!
3. Bed Bath & Beyond: Their return policy is a breeze. You can create your very own personal wedding website. The website allows you to plan, budget, and create seating arrangements with ease. Their website is also very user friendly for guests and yourself.
4. Crate & Barrel: Offer wedding parties at many locations so that you can try new products, enjoy food, music, and have the opportunity to have experts answer questions and help you register. They have an online guide book as well as a flip-book (idea book) of objects to register for.
5. Macy's: They have a registry reward system where you can get 5%-10% in rewards. You get 10% in rewards when you use your Macy's card and 5% in rewards when guests purchase items off of your registry. Macy's also provides a checklist of items you may not be thinking about. Sometimes you just forget to register for that potato peeler.
Maybe Think Twice…
1. Target: From personal experience as well as comments from other users, you may want to rethink using Target. They do not allow you to return items over $20 without a gift receipt. It does not matter who gave it to you, how many times you beg them, or if you have three toasters. They will not take back anything without the receipt.
2. Tiffany & Co. : Although a reputable company and well sought after not everyone has hundreds of dollars to spend on the beautiful couple.
Do your research before registering. Look to see what each company will provide and what their incentives are. Many companies go out of their way for their customers. I don't know about you, but I want some serious service especially when I will be making that company a lot of money. Good luck and happy shopping!
After nearly 7 years of dating, actors Maggie Gyllenhaal and Peter Sarsgaard tied the knot this past weekend. The pair started dating in 2002 and have a 2-year-old daughter, Ramona. They exchanged vows Convento di Santa Maria di Costantinopoli, a luxury bed and breakfast in Brindisi, Italy, before just 40 close friends and family members, including the bride's brother, Jake Gyllenhaal and his girlfriend Reese Witherspoon.
Having a wedding in a small Italian town is great for celebrities to get away. Weddings are supposed to be private events with your closest friends and family members, not something put on for the paparazzi. Celebs will spend millions of dollars to get away from it all. Unfortunately, when they do this we can't get a picture of her wedding dress! If one shows up online, I'll be sure to post it here.