Who wouldn't want a free honeymoon? Free announcements or free photography for their wedding? I've done my research and brought you the top five sweepstakes I thought were worth entering. Check them out and enter, what does it hurt?
Number 5. A seven night stay at Verandah Resort and Spa. It's a free honeymoon plus a spa treatment for you and your hubby! Click Here
Number 4. This sweepstake is through the Wedding Channel. It includes a photographer (the same one that snapped Katie Holmes and Tom Cruises wedding), but they fly you out to meet him and partake in a week long bridal shoot with some amazing photos. That's not all, he will be at your wedding taking pictures as well. Click Here
Number 3. The Tampax Upgrade Wedding through the Wedding Channel. They are giving one lucky winner $3000.00 towards their wedding. Check it out!
Number 2. The New Mexico Dream Wedding Giveaway. You name it, they are giving it away. This giveaway includes everything from invitations to photographer to makeup. Check it out.
Number 1. This is the biggest sweepstakes I have ever seen. It includes a wedding coordinator (yeah they plan your wedding), a photography package, organic wedding cake, wedding gown, wedding invitations, a stretch limo, and $500 towards rings. How awesome is that? Best part is they are eco friendly, everything is organic! Right this way…
The folks over at Bella Naija, a style site from all the way in Africa, posted the 11 most iconic wedding dresses from film and tv. Quite an interesting topic huh? We see actresses portray brides in movies all the time, but do we ever really pay attention to the dresses?
What does Bella Naija define as an "iconic" dress? It's the style, as it is vastly applicable to today's bride, it's beauty, and most important, the scene's impact on the movie, series or show as a whole!
Coming in at Number 1 is Julia Roberts in Runaway Bride. I'm not a fan of the dress she's wearing, but the wedding scene in the movie is great. If someone asks you to name a movie about a wedding, Runaway Bride is probably the first one that comes to mind.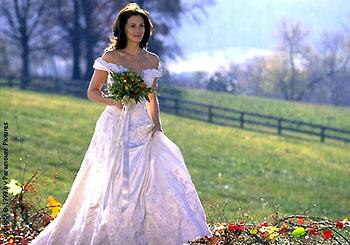 Check out the other 10 dresses here.
With the economic turmoil going on right now in the United States, thousands of couples are trying to plan low-budget weddings. Just because your budget has been slashed, doesn't mean you can't have a nice wedding. The Wall Street Journal just published an article titled "Bargain-Bin Weddings". I suggest reading the entire thing, but if you don't have time here is a quick excerpt.
"My wife Cathy and I were married on an oak-tree hilltop near Stanford University in June 1975," a reader emailed me. "We played our own music, made a Maypole for fun, hung banners from the oak trees, and Cathy's uncle, a Lutheran minister, performed the ceremony. The reception was held at the home of a Stanford faculty member. We all had a blast, and the total cost was less than $500."
Click here to read the full article.
So you're getting ready to book your honeymoon (which should be done at least 6 months in advance). You aren't sure where to go. Take a look at our top five honeymoon destinations that won't hurt your pocket too bad and are very romantic.
1. Los Cabos, Mexico: Beautiful blue water, white sandy beaches, and tons of beautiful resorts to choose from. The temperature averages 70 degress year round. The average rain fall is only about 10 inches. Sounds good already, right? At least you know the weather will be beautiful all year round. If you are on a budget the best time to travel is between May and September.
2. The Bahamas: Beautiful water and tons of snorkeling (you can go in caves too)! Take a boat to an island, have a picnic, and take a nap. Always wanted to swim with dolphins? The Bahamas offers one of the best experiences swimming with dolphins. This I can vouch for; need I say more about the Bahamas? Want to save a buck or two, go between May and November. That's their down time.
3. Paris: Hello??? The most romantic city in the nation, that's why it's on the list. The food is said to be the best, the city very romantic, and the Eiffel Tower. Save a a few dollars and go during these months: April, May, June, September, and October. Don't go in July or August. It's said that is when the town of Paris takes it's own vacation. Going during those months may not be as fun. Many shops, bistros, and other stores could be closed.
4. Lake Tahoe: If you are a couple that enjoy the outdoors, then this is a honeymoon for you. With the beautiful lake sitting on Nevada and California you have much to see. Skiing is said to be one of the best things to do while visiting Lake Tahoe. If you aren't starring at a lake, you have mountains to see! It's a beautiful place to visit any time of the year, however, the summer months and winter months are said to be their most popular times.
5. Hawaii: Any island is a great choice. However, if you are looking for romance I would stear away from the biggest island. There are a lot of skyscrapers and city life there. Head to the smaller islands where there is much to do and volcanoes to see. Like the first two destinations, April through November is the slowest, but not what we call slow. Hawaii is a year round destination for all, so it doesn't slow down a whole lot.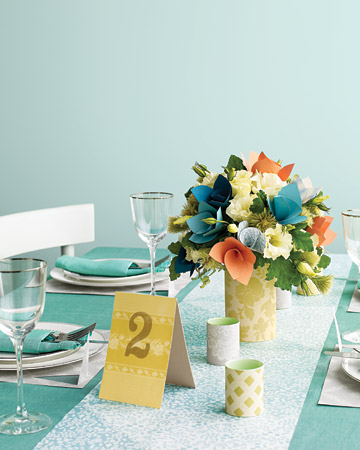 Have a budget crisis? Not sure where to cut costs? Worried about how to pay for your wedding in this economic crunch? I have a solution for you or rather Martha Stewart does. Flower arrangements can be a bit pricey. You can cut costs significantly by creating your own table arrangements. Martha Stewart has some great kits that come in multiple colors as well as several different types of flowers. You can hand make them yourself with step-by-step instructions. If you have ten tables at your weddings and spend approximately $50 for flower arrangements per table, you just saved a whopping $500. With cuts like that you can save quite a bit of money. If you are interested about where and how to make the flowers you can purchase them at Michaels Craft Stores or go online at Martha Stewart Crafts.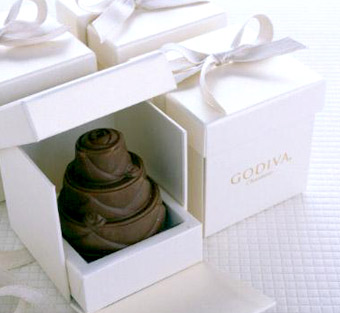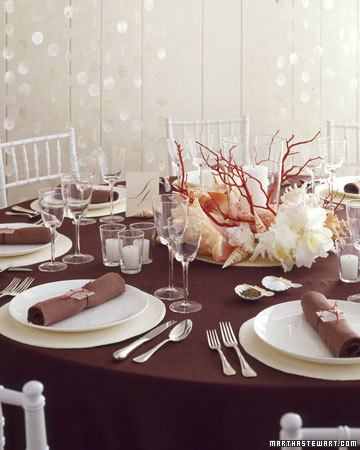 Do you just have to know what's in this wedding season? Of course you do! I have listed below the new or reoccurring fabs that are in this wedding season.
1. Short wedding dresses are getting more and more popular. They aren't just for last minute brides going down to city hall to be married by the Justice of the Peace.
2.  Scheduling your wedding during an off season. Yes there are popular seasons/months for weddings. It is said that June and August are the most popular wedding months. However, May, September, and October were also popular months. The least amount of weddings take place in January and March.
3. Beach Weddings. More and more brides prefer a beach wedding. Many engaged couples are now going to beachy resorts to say their "I Do's." The best part? You can honeymoon immediately after your ceremony!
4. Vintage accents are in! From vintage style wedding bands to floral arrangements more and more vintage is making it's way into weddings. And why not, it's beautiful and elegant.
5. Flower Free Centerpieces. Whether you are trying to save a few dimes or just want a unique look I have seen quite a bit of candles, food, and themed items being used as centerpieces. Not a bad idea of you ask me.
Sometimes we can become overwhelmed with our pre-wedding essentials. We can become discouraged and often think we want one thing and then change our mind the next. Well when choosing your wedding gown, you want it to be perfect, no second guessing, and no mistake about it. Most women describe their wedding dress experiences in one simple phrase "I knew it was the one as soon as I put it on." These five tips will ensure you will have an easier time choosing that perfect dress.
1. Bring a friend on your shopping adventure! A good friend is one who you can trust, they will be honest and tell you the dresses flaws or hidden features you may not have noticed.
2. Bring a camera! Take pictures of the dresses you "really" like. Later on you can look back at them and decide if it was a good or bad choice.
3. Shop around! My best friend found her perfect dress in Miami, Florida. Later on when it was my turn to find my wedding gown, she found her exact gown in her hometown city for $300 less.
4. Set a budget before you go shopping for your gown. You don't want to find a dress, fall madly in love with it, look at the price tag and find it is $3000 over budget.
5. Order your gown at least 6 months in advance. Most of the time it takes a couple months for the dress to be made and shipped (a lot of the better quality gowns are made in Europe). Then you have to leave time for your dress fittings. Most brides have at least 2-3 dress fittings.