AskMen.com recently updated their Top 10 Honeymoon Destinations list. It's great to spy on a list from a men's site so we can find out what they really want. Here's their list:
10. Niagara Falls, Ontario, Canada
9. The Islands of the Bahamas
8. Nice, France
7. The Turks and Caicos Islands
6. Aspen, Colorado
5. Las Vegas, Nevada
4. Tahiti, French Polynesia
3. Africa
2. Costa Rica, Central America
1. Hawaii
Do you agree or disagree with any destinations on their list? I was surprised not to see St. Lucia (where I went) on the list this time. And really, I don't know anyone who has gone to Africa for a honeymoon.
Where did you go, or where are you going?
This is a video of the worst Best Man ever. Hard to tell if the video is fake or not, but from what I've read online, it seems to be authentic.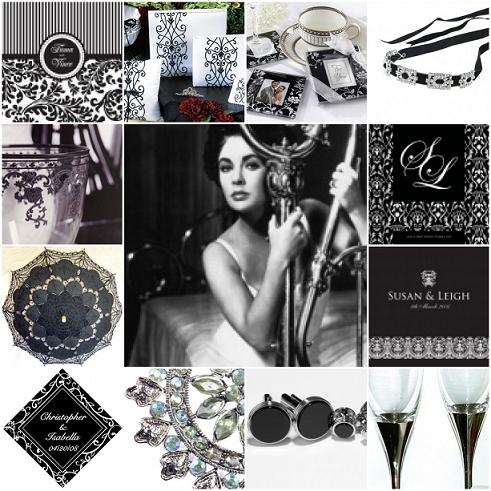 Finding your wedding vendors is never an easy task. I know when I began looking for vendors I became overwhelmed. There are so many to choose from. How do you know if they are any good? Will they be on time? Will they provide a great service? It's your wedding day, why take that risk?  I have recently come across a neat site that reviews wedding vendors. All you do is choose what kind of service you need and type in your zip code. The vendor list pops up along with a 1-5 star rating of that particular company. I tried it out myself and found it to be very useful. Many of the vendors in my area that I was familiar with were listed. I hope this site helps you out. I know it would have been helpful to me.
The site is called Wedding Wire Vendors. The best part is it has vendors listed in all fifty states! Good Luck and be sure to leave your thoughts and opinions about the site. I would love to hear your comments!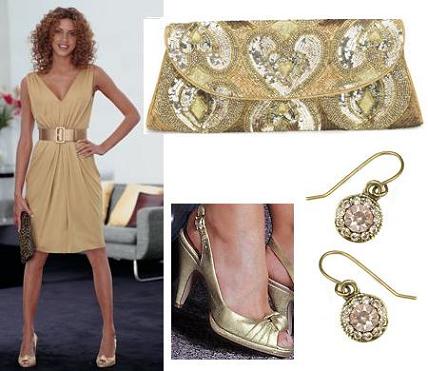 Have you ever wondered what you should wear to a wedding? I know I have! Your first clue is in the invitation. The invitation will list the month of the wedding, time, date, and place. These are all great sources of information on what you should be wearing. The wedding invitation can also lend more information than you think. If it happens to be a kind of invitation that is printed on heavy cardstock with fancy font and wording, chances are you need to be semi-formal. If you get an e-invite or the invitation has wording such as "We're Getting Hitched" than you're probably safe with a cute spring dress.
If you are traveling to an out of town wedding than make sure you purchase an outfit that can withstand the traveling demands. Many fabrics are wrinkle-free. If your fabric has Lycra than your dress may withstand some tossing and turning. The most important no no of all is DO NOT and I repeat DO NOT wear white to a wedding. That is the brides color and you may get some dirty looks. We are not trying to steal the brides thunder! This is after all her big day!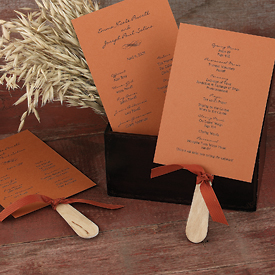 The ceremony is an important event on your wedding day and your guests need to know what is happening and the order in which things will be taking place. That is why programs were invented. It's a simple way to let your guests know the type of music that will be played, who is in the wedding, and so on.
The ceremony programs can be bought or printed, but it is highly recommended that you have them. They should include all important events in the correct order.
The programs above are popular for outdoor weddings in the spring or summer. They are known as fan programs and are used to cool down guests when the weather is a bit hot. If you are interested in these particular fans you can see more of them at My Jean M. Another great site with programs is Invitation Consultants.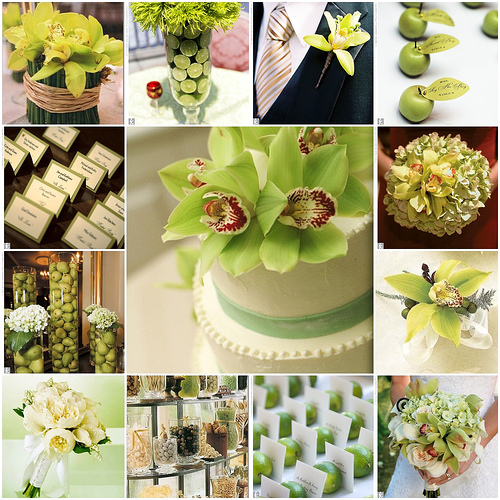 A very popular wedding scheme you often see is with the use of green. The color goes with so many other shades, but one particular shade that stands out is creme (cream). The two colors contrast one another so well. From flowers to place cards, the two colors are just stunning.
The best part about the color scheme is it can be used all year long, in any season. When choosing the colors you want, keep in mind what kind of mood it will create. For instance, if you want a very romantic setting you may go with a color such as red.
Once you have chosen your colors don't go overboard! Add a touch of color to the bridesmaids dresses of course and other things like: the invitations, flowers, and the favors. Remember you don't want your guests to feel too overwhelmed. Once you have added your color in those areas, you can move forward if it's not enough.