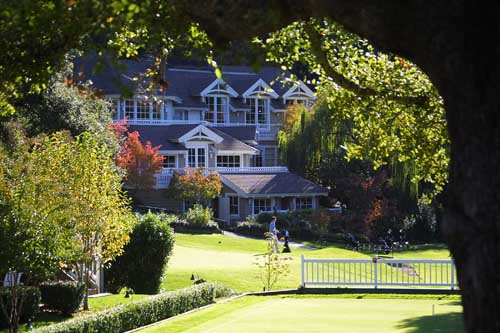 Looking for a honeymoon destinations? Napa Valley is one of the most romantic places in the United States. The ocean, the hills, the food all combined with wine country sure sound inviting. As a matter of fact my husband and I are going to California for our one year anniversary. I have always wanted to go to Napa Valley and enjoy visiting wineries, check out the killer shopping, and see those famous Redwood Trees in Yosemite National Park.
There is a great deal to see and I highly recommend this destination as a honeymoon option. For more information you should check out Napa Valley's visitor page. There is a great deal of information about the different wineries, hotels, activities, as well as famous restaurants. If you are interested in researching what there is to do, you can also sign up for their newsletter. They provide a free newsletter that is full of great information.
Wedding Flowers
Choosing your wedding flowers can be a difficult choice. It seems as if the whole day consists of flowers and it is. You need flowers for your bridesmaids, ceremony, reception, yourself, and the list could go on. The best advice to begin with is to choose your color(s). Many people use darker colors for fall weddings and the lighter colors for spring/summer weddings, however, that has changed. I've seen a variation of colors at all times of the year. Keep in mind some flowers may be seasonal and harder to get at certain times of the year.
Once you have chosen your colors, give yourself a budget. I called around to see who had the best deal on flowers and then when I found the place I came in with a list. I said I wanted certain flowers for the flower girls, told her what I wanted my bouquet to consist of, and so on. She gave me an estimate that was over my budget so I asked her what we can cut back on. She was great and worked with me. Don't get discouraged when you see the estimate. Sit down with your florist and tell them what you're looking to spend. They will be happy to work with you!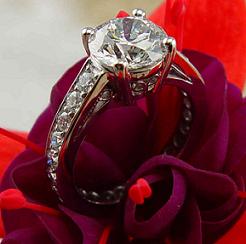 Wedding Rings
Need an education on all the wedding ring terms? When looking for that special ring you hear words like cut, clarity, carat, and color. They are known as the four C's. Let me educate you on what those terms mean and which is pretty important. You are probably thinking that the carat matters the most. Wrong!!!! As a woman I would so much rather have a ring that has better cut and clarity than the size of the rock.
1. Cut: Refers to the shape of the diamond. This is how the facets are cut. It can cause the diamond to look dull and prevent it from sparkling.
2. Clarity: This is where you the word flaw and how many flaws the diamond may have. The less flaws the diamond has the more it will sparkle. Flaws are imperfections, spots, scratches, or cracks. The fewer flaws the more you will pay.
3. Carat: This refers to the size of the diamond. The larger the carat, the higher the price tag. However, like I said just because you have a large diamond doesn't mean it's the best. It could be large, but have many flaws.
4. Color: This is determined by using a scale (D-Z). The closer it is to D the more flawless your diamond becomes. The closer it is to D the less yellow it becomes.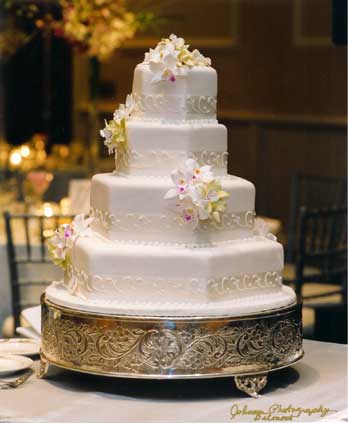 Need some wedding cake inspiration? These cakes can give you some ideas for your own wedding cake. The white cake (great for weddings all year round) has four tiers and a lot of detail. The orange cake is a great color for a fall wedding. The cake has three tiers and is decorated with several different kinds of petite flowers. If you are on a budget, minimize the detailing on your cake. The more detail that is involved the higher the price tag will be. Buying a beautiful cake stand can really dress up the cake. You can even purchase a package of flowers from your local florist or supermarket and add the flowers on your own. This will cut some of the cost of your cake as well. I had was determined to spend no more than $350-$400 on my wedding cake and I was able to do it. How you ask? I had my local supermarket create the cake for me. I brought in my inspiration (a picture I cut out from a magazine). It looked great and tasted even better! Check out my cake below.
Need more inspiration? You can visit Enchanted Wedding Cakes or visit Pink Cake Box for more great ideas.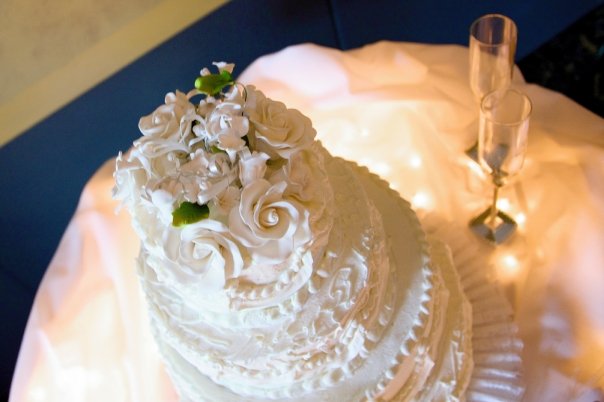 This is my wedding cake that I had our local supermarket make. I brought in a picture to the deli manager and they created this beautiful cake as well as our cookie favors!
The best part about it was the cake only cost us $345 and that included the delivery fee! Does my cake look like a $345 cake? No, but who has to know?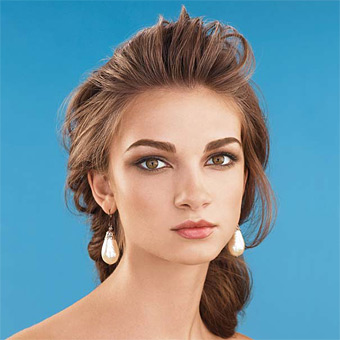 I was browsing some wedding hairstyles this weekend and found this one. I loved the simplicity of it, but yet it was so elegant. It's truly beautiful and could be used on many different hairstyles. Hey if you're paying these hairstylists they should be able to do anything right? You just mention the word "wedding" and prices seem to jump faster than you can say "excuse me."
When I got married last April, hair was a major priority for me. I looked and looked and looked and couldn't find anything I liked. I finally went to my hairdresser and described what I wanted. So ladies, I completely understand the dilemma. I know of a few great websites with some great wedding hair. For starters check with www.theknot.com and www.brides.com They were pretty helpful!