When planning for our wedding, we often forget about the little things. Our main concerns are our dress, the bridesmaids, the reception, and the ceremony. When planning for my own wedding, I almost forgot my hair accessories. I love the stylish combs and pins that are available and often used in the brides hair. They are so elegant and beautiful. The nice thing about these accessories is they can range from many different price ranges.
This particular comb is $235 at Perfect Details. However, I have seen very similar ones for as low as $44.95 at Advantage Bridal. Advantage Bridal has one of the biggest selections I have seen and their prices are very reasonable.
When planning for your big day, don't leave out the little stuff. Keep in mind that you need hair accessories, jewelry, your something borrowed, something old, and something blue.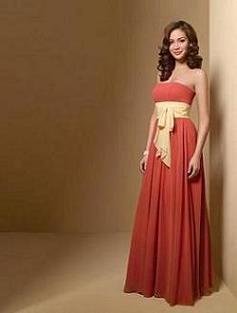 Have a fall/winter wedding? Looking for bridesmaid dresses? Brides usually go with a T-length dress or longer for their bridesmaids in the winter months.
This Alfred Angelo Collection is the perfect winter dress. The dress can be purchased in 55 different colors. The dress also comes in assorted sizes (including junior bridesmaid sizes) and options. Don't want a strapless dress? Well then add straps. Don't want all the bridesmaids wearing the same dress? Almost all of their dresses have the same 55 colors available. You can choose one color to coordinate your entire bridal party, but have them all in a different dress.
For more information on the Alfred Angelo Collection, please click here. If you would like more information on this dress, click here. Love this dress? Hate this dress? Own this dress? Rate it below using Does the Dress Fits' rating system.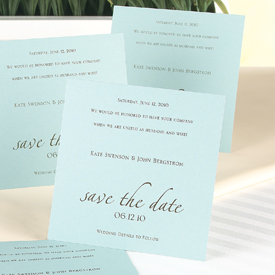 These Save the Date Cards are a great idea. They allow your guests to know that an invitation follows and gives them more time to plan. These cards can be sent out as far as one year in advance. Wedding invitations are usually sent out just 2-3 months prior to the wedding. Sometimes that is just not enough time for your guests, especially those out of town guests.
These cards can be found at Jean M. The square card can be ordered in several colors. For more information please visit the Jean M website. The website offers some wonderful ideas for any upcoming wedding.
If cards are not something you are interested in, many brides also send out magnets. Another popular way to announce your wedding date.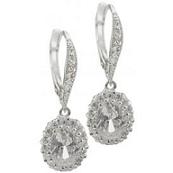 Need earrings for your wedding day? These cubic zirconia earrings from Anna Bellagio are stunning. They have many assorted pairs of earrings for under $60. Many woman go with the simple studs or pearls on their big day, however, on my big day I wanted something dramatic. My dress had a lot of beading and detail so I knew I couldn't wear too much. I decided to go with some chandelier earrings and a simple bracelet (my something borrowed).
Anna Bellagio is a great company. They gift wrap your purchase, the shipping is fast, and have many earrings to choose from. The best part about it is they don't tarnish or discolor if you keep them in their original wrapping. If you would like more information on this product please click here. Another great company, a company where I purchased my earrings from, Wedding Sparkles. I bought my earrings for under $25 and received more compliments on those than the real white gold bracelet I was wearing. You may want to give that website a look.