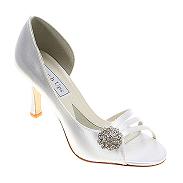 What good is a beautiful dress if you don't have any killer shoes to wear it with? This company Touch Up is one of my favorites for bridal shoes. These exact shoes that I have posted are the shoes I wore to my very own wedding. They are very inexspensive, coming in at just under $60. The price varies on several websites. I purchased these from Bellissima Bridal Shoes for $56.99. However, they are listed on a few other websites for a few dollars less. Shoe Buy has them listed at $53.95.
I wore these shoes all day long without once taking them off. I can honestly say they are one of the most comfortable shoes I have ever worn. Of course at the end of the night my feet were sore, but mostly just from being on them all day. I even bought slippers to change into, but did not have to change because they were so comfortable. The best part about them is they are cute!!! I received many compliments on them and I am happy I chose them.
These peep toe heels come in at 2.62 inches in height. They come in white, gold, silver, and black. Sizes range from 5-11. For a better look, click here.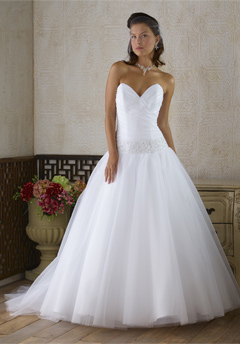 All right ladies…. are you ready for a beautiful dress that's within your reach? Well this killer dress is just under $600.00. This Jacquelin Exclusive is a perfect dress for indoor or outdoor weddings. I love love love the tulle that was used in designing this gown. My favorite part of this dress is that sweetheart neckline. It allows for some cleavage, but still says "elegant."
Many of the gowns from the Jacquelin Exclusive line are very affordable and look great. The designers have a great sense of what brides are looking for, yet keep the dress within the realm of fashion. If you are interested in knowing more about this dress please click here.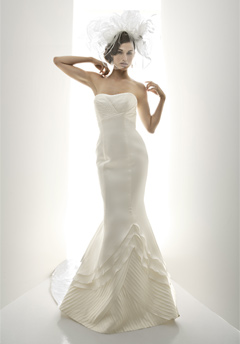 Shear elegant… This dress has so many distinct features that make it breath taking. The fact that it is a mermaid silhouette means it hugs the body. If you are not looking for a dress that shows all your curves this is not the dress for you.
One of my favorite details about this dress are the ruffled layers at the bottom of the dress. It really adds to the dress and gives it so much character. Need I say more? If you would like more information on this dress, please click here.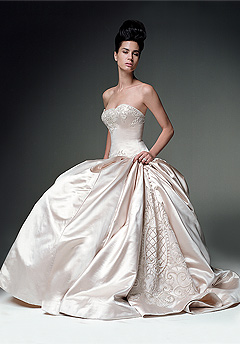 Sometimes we just need to feel like Cinderella. This Kenneth Pool gown is truly the perfect Cinderella gown and will surely make you feel like a princess.
The Kenneth Pool Collection designer is Austin Scarlett, winner of the first season of Project Runway. He is currently one of the top designers for wedding dresses and evening wear. I would say he was a good investment. He definitely knows how to make a woman feel beautiful, right ladies? If you would like more information on this gown please click here.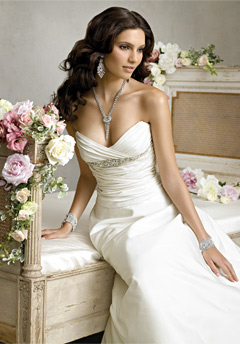 Jim Hjelm has some very beautiful dresses! This dress caught my eye when I was wedding dress shopping. The sweetheart-strapless neckline really causes you to fall in love with this dress. It has some minor beading along the top. Because it does not have too much beading going on it looks great with accessories. When purchasing my wedding dress, I had a lot of detail in the top half of my dress so I chose to wear a pair of large chandelier earrings and skip out on a necklace. However, any accessories would look great with this gown.
Jim Hjelms gowns are designed by Francesca Pitera. "I like to play with the balance of the latest trends and classic styles to create timeless yet unique gowns." If you would like more information on this gown please click here.