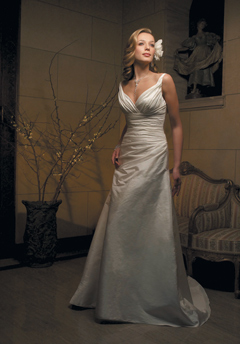 Looking for a more form fitting dress? This dress hugs in all the right places. It has a dropped v-neckline and is made from silk taffeta. This dress reminds me of greek goddesses. These gorgeous folds in the fabric adds so much detail to this gown. It's simple, but sexy.
The Casablanca Collection is very affordable and can be seen in many bridal stores. If you are interested in this dress and would like more information, please click here.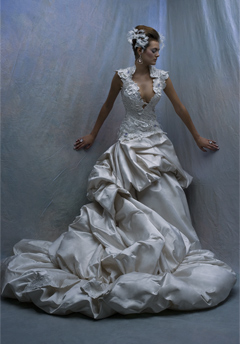 This dress says it all. I don't think words can even describe this dresses beauty. I'm not sure there is a single woman who wouldn't mind walking down the aisle in this dress. It is almost so perfect that you don't even want to wear it for fear of messing it up or wrinkling it. Now I know I am in love with many of the dresses I review, but come on. I couldn't resist putting this one up. It's sexy and elegant all at the same time.
I enjoy writing and reviewing the most beautiful gowns. I just don't have the heart to review a gown and talk about how completely hideous it is. I would rather talk about what makes each gown beautiful. This dress speaks volumes! If you are looking for a gown that makes a statment, this one is your gown. The only down fall is it's price. It ranks in at over $5000.00. For more information on this gown please click here.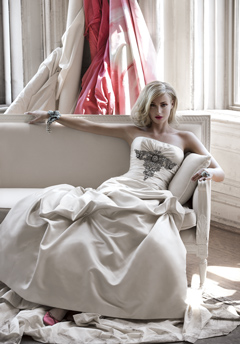 I will never forget the time I bought my first bridal magazine. I was so thrilled to be engaged and couldn't wait to look at dresses. I came across the Rivini line and really liked the uniqueness it offered. However, after researching the line I discovered their prices. The Rivini line is an expensive line ranging from $3000.00 and up. If you are looking for a one of a kind dress and money is not an issue then I highly recommend this line. I guarantee people will be asking, "Where did you get that dress?" This particular dress is called Savonna. If you would like more information on this dress please click here.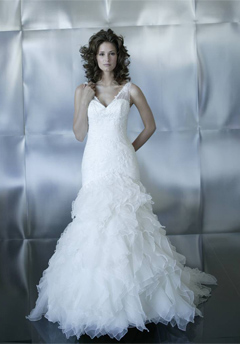 This Bellissima Couture line is one of my favorite lines. The dress has a sweetheart neckline and tulle ruffles making it a very unique dress. My favorite part about the dress is how the neckline was created. It has an unusual sweetheart neckline, but if you look closely it also has sheer netting creating a V. The beading around the neckline continues down the dress until it hits the ruffles. The dress looks very fashionable, but are you ready to hear the price? You won't believe it, but it is only around $1000.00. How can you beat that? That is why it is one of my favorite picks. You don't find too many dresses like this with an affordable price tag. If you are interested in this dress please click here.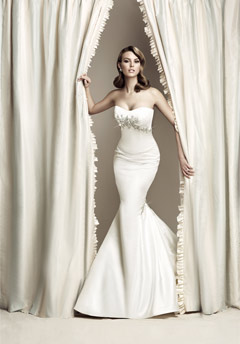 I just love the Simone Carvalli Collection. I have fallen in love with her dresses since I begin planning my own wedding. This gown has a beautiful mermaid silhouette and a strapless neckline.
The best part of all is that it is some what affordable. The gown is made from royal silk satin. If you would like more information on this dress please click here.